by Rebecca R. Bibbs, courtesy of The Herald Bulletin
Lapel Middle School (IN) eighth-graders Brennan Stow, 14, and Lily Humerickhouse, 13, went about their work in the media center at Lapel Elementary School, moving around the banana tree that stretched to the ceiling as if it weren't there.
But the students are acutely aware of the unusual learning tool, which had been used as part of their lessons. "I thought it was really cool. I never saw a banana tree in a library," Brennan said.
The original 20-foot tree required five people to carry it into the building, said Shuck, who raises banana trees. Once inside, it had to be cut from the top to accommodate the 12-foot cathedral-type ceiling in the library, she said. "Anything that we can expose the kids to that they normally don't see is great," she said. "I thought it was something they needed to see because they might never see this in their lifetime."
Shuck said she started growing the trees at home several years ago after receiving shoots from an acquaintance. "We just put them in our backyard along the fence," she said. In the fall, she brings the trees inside and places them in a dark room. "They have enough water, and you don't have to do anything in the winter," she said.
The trees are about 80 percent water and require up to two gallons of water a day during the four-month growing season, Shuck said. "It's like gauze inside, and it's water … When we peel that back, it just leaks water for five minutes," she said.
The trees each bear about three shoots. This year alone, Shuck said, she harvested 47. "Every time you plant one, you're going to get little ones off the side," she said.
It takes about five years for the trees to bear fruit, Shuck said. This is the first year her trees actually have produced bananas, she said. "We had some two years ago that tried, but we didn't have the climate," she said.
Once they have borne fruit, however, the trees die, Shuck said.
Because it's the first time the tree in the library bore fruit, Shuck learned something new herself as she peeled back the petals of the flower pod. Lined between each layer were the starts of what would have become bananas. "We don't know how long it's going to last," she said. "Now that it has bananas, it will die. That's its mission in life."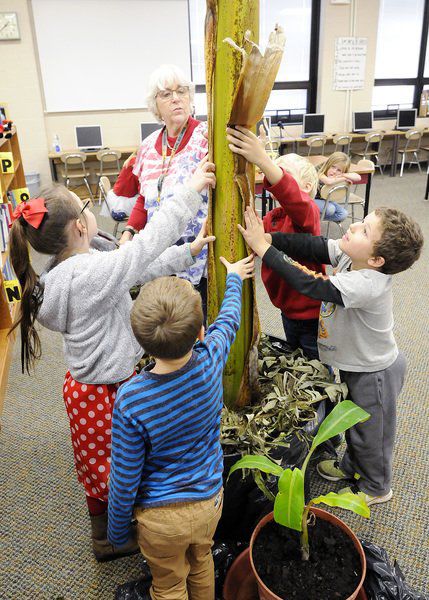 From an educational standpoint, the banana tree has been a focal point of projects not only for the elementary school but for the adjacent middle school, where students worked on a project involving the senses, Shuck said. "The kids come in, and they all have been able to touch it," she said.
Shuck said it's important in a highly digitalized classroom to have some real-world experiences to enhance what students learn online. In fact, students clearly have demonstrated more interest in the live tree once it was brought into the school, she said.
"They lost interest in the video about the trees. They wanted to hear about the tree and how it grew. It's tactile. You can smell it," she said.
Lily agreed. "I think it's a hands-on thing. It's cool to see it up close and not just on a picture," she said. "You can't feel or smell things on the computer."
Lily said she also liked that her school had something others didn't. "I'm not sure a lot of schools have a banana tree. Even though I don't like bananas, I think this is so cool," she said.