On February 21st, 1987, The Bahia Mar Marina in Fort Lauderdale, Florida designated Slip F-18 as a literary landmark in honor of John D. MacDonald's most famous character "Travis McGee" and his houseboat "Busted Flush".
John D. MacDonald created the life of "Travis McGee", the fictional salvage consultant that docked at the Bahia Mar, in his forty-fourth novel The Deep Blue Good-by in 1964. MacDonald continued a twenty-one book series on "Travis McGee" all with colors in the title.
The Deep Blue Good-by begins at the famous marina: "It was to have been a quiet evening at home. Home is the 'Busted Flush', a fifty-two foot barge-type houseboat, slip F-18, Bahia Mar, Lauderdale."
John D. MacDonald became one of the most prolific mystery writers producing over seventy novels and one of the most respected masters of pulp fiction. MacDonald served as president of the Mystery Writers of America and received the American Book Award in 1980.
The plaque has been relegated to the harbormaster's office due to dock renovations. (Check out this related link from the Miami Herald.)
The Literary Landmark program is administered by United for Libraries. More than 150 Literary Landmarks across the United States have been dedicated since the progr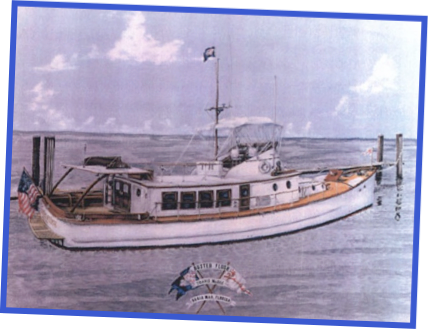 am began in 1986. Any library or group may apply for a Literary Landmark through United for Libraries. More information is available on the United for Libraries website.
United for Libraries: The Association of Library Trustees, Advocates, Friends and Foundations, is a division of the American Library Association that supports those who govern, promote, advocate, and fundraise for libraries. United for Libraries brings together library trustees, advocates, friends and foundations into a partnership that creates a powerful force for libraries in the 21st century. For more information or to join United for Libraries, visit the United for Libraries website.