by Crystal Thomas, courtesy of the Joplin Globe
Despite welcoming quiet in her library, Julie Yockey found she couldn't stay silent when the governor's recommendations for next year's budget came out earlier this month.
On Tuesday, Yockey, director of the Carthage (MO) Public Library, was chosen as the one representative to meet with the governor from the librarians who flocked to the Capitol on Library Advocacy Day. Librarians came from all over the state came to plead with their elected officials to restore their funding.
In the 2015 budget year, public libraries received 50 cents per capita. The current budget has scaled back funding to 13 cents per capita, which the governor plans to continue into the next budget year. From the $9 billion in the state's general revenue fund, all Yockey wants for public libraries, she said, is a return to their 2015 slice of $7.3 million, instead of their current $3.5 million sliver.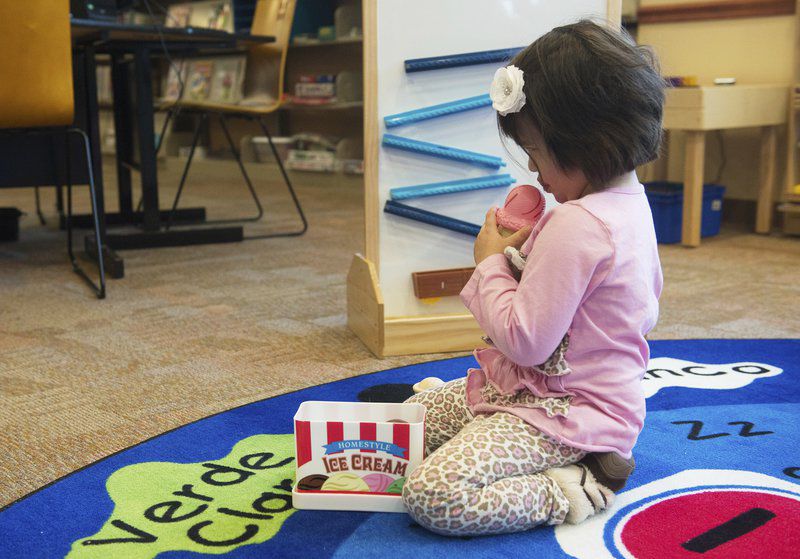 "People use the public library to get online instead of in line while trying to find a job," her letter reads, taking a cue from Greitens' State of the State address. "We support people who are trying to build or rebuild their lives."
Yockey said she was able to tell the governor how the library acts as a job center in her community. In a town where 36 percent of the population is Hispanic, her library is able to offer English and citizenship classes. "The governor often meets with constituents to hear about the issues facing them," Parker Briden, the governor's press secretary, wrote in an email. "We look forward to talking with more people from Carthage, Joplin, and towns across the state to serve the people well."
In a House budget hearing on the same day, Secretary of State Jay Ashcroft passionately defended libraries and asked the representatives to consider fully funding public libraries, which falls under his department. "I know times are tough — we talk about economic development, we talk about opportunity for everyone," Ashcroft said to the budget committee. "Libraries do that."
Ashcroft said Missouri allots $30 worth of library funds per prisoner. In one year, more than 27 million people visited libraries in Missouri, which is more visitors to state parks and baseball games combined, he said.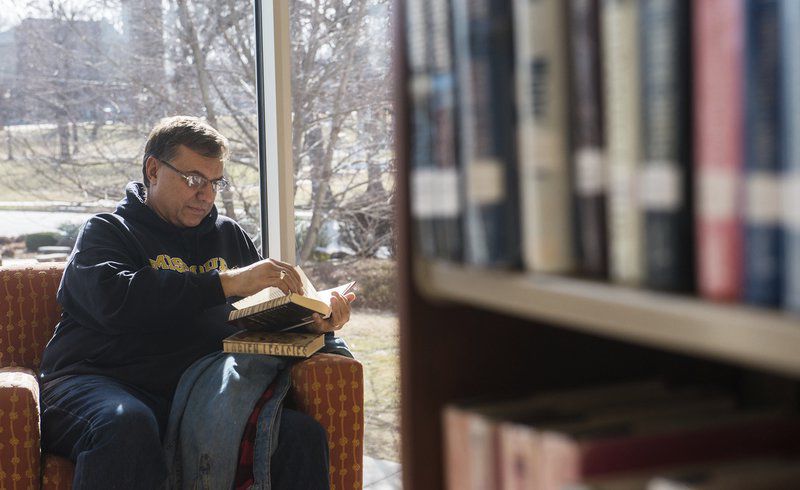 Sitting in the Missouri State Library, Ashcroft said libraries have personally enriched his life and his kids' lives. "I wouldn't be where I am now if I didn't have the love for reading that I have," Ashcroft said. "Reading allows people to teach themselves what they want to learn."
When he was a kid, his mother, who was the first lady of Missouri at the time, even tried to get the public library opened one Sunday when his younger brother needed to finish a report for school. Some nights, Ashcroft said, he will sit in the Missouri River Regional Library — he calls it Thomas Jefferson Public Library, its name during his childhood — and read a book because his family hasn't moved from St. Louis to Jefferson City yet.
His personal affection aside, Ashcroft said the Missouri Constitution requires public libraries to be supported by the state. As part of a 1998 law, public libraries are supposed to receive 10 percent of the state's athletes and entertainers tax, Ashcroft said. In the last couple of years, he said, libraries have not seen the full 10 percent.
For example, in the 2015 budget year, 10 percent would have been $4.1 million. That year, libraries were transferred $776,000 from the fund.
Ashcroft said that libraries were a good investment: For every dollar the state spends, the benefits tend to be exponential. Plus, public libraries are often the only free sources of advanced technology and classes. "If you look at our society where people are changing jobs and changing careers, I think it's more and more important for people to have the resources and learn new things so they can stay current and move up in life," Ashcroft said.
Debbie Musselman, the state library development director, said the greatest concern is for libraries who might not be able to afford to put up the match for federal grants. Some of the important programs include summer reading and Remote Electronic Access for Libraries, which connects libraries and provides better internet service.
Musselman estimated that about 20 libraries weren't able to afford the REAL program after this year's cuts. "For the small libraries, like McDonald County, it's devastating," said Carrie Kline, who worked at the McDonald County Library for 14 years.
Kline said state aid is a bigger portion of the rural library's budgets, especially those that do not have a tax levy and have a small property tax base. In those communities, libraries are often the only resource people have. The current McDonald County Library's director starts her job this week and was not available for comment.