by Steve Zalusky
2017 was a lively year for libraries.
National issues and trends impacted our nation's libraries, and librarians rose to the challenge, promoting media literacy, protecting the freedom to read, advocating for equity, diversity and inclusion and responding to the needs of their patrons.
At the beginning of the year, librarians were quite literally on the front lines, many of them participating in the Women's March on Washington in Atlanta in January.
Throughout the year, they continued to advocate, with more than 500 librarians participating in National Legislative Day on May 1-2 in Washington, D.C. It was a time when the proposed federal budget threatened to wipe out the Institute of Museum and Library Services, an important source of funding for library programs.
Recently retired ALA Executive Director Keith Michael Fiels said in his opening statement at the Liaison Capitol Hill Hotel, "Libraries are facing the challenge of a lifetime, if this funding can be done away with at the stroke of a pen. This is the time when the rubber hits the road."
Happily, IMLS funding did not succumb to the budgetary axe, with $231 million budgeted for IMLS through September. But the storm clouds have yet to dissipate.
With the issue of "fake news" dominating the national discussion and with a society overwhelmed by an exponential increase in digital information, it was only natural that librarians, the guardians of information, weigh in on the controversy and take action.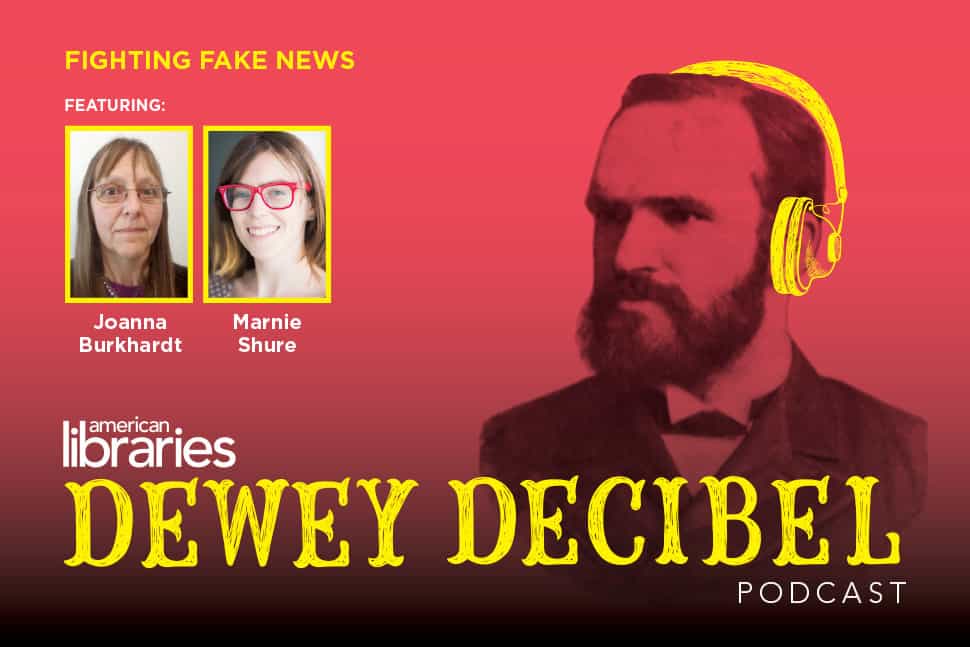 In May, the Seattle Public Library System launched a class called the Fake News Survival Guide. As reference librarian Di Zhang told K5 News, "(I)n this confusing climate of fake news and fake information and scams and all these online hazards, you know you can come to us, and we can help you evaluate that information. And kind of find strategies and best practices on how to deal with information."
And in June, USA Today reported that school librarians were teaching students how to evaluate and verify news content by using a system called CRAAP, which stands for Currency (timeliness), Relevance (importance), Authority (source), Accuracy (reliability) and Purpose (reason).
In addition to being guardians of true information, librarians were also protectors of the right of patrons to access information in the face of book challenges.
In April, the American Library Association's Office for Intellectual Freedom (OIF) issued its annual list of the 10 most challenged books of 2016. According to OIF, there were 323 challenges, while more than half of the books that were challenged were removed from the libraries where the challenges took place. Several of the challenges were leveled on the grounds that the books contained LGBTQ content or portrayed transgender characters.
During Banned Books Week, held in September, the Lexington Park library in St. Mary's County, Maryland, covered several books in its teen section with brown paper bags. The bags read, "Do Not Read This. Lift to see the banned book, you rebel, you"
One of the books was "The Little Black Book for Girlz: A Book on Healthy Sexuality," which raised the ire of some parents.
Michael Blackwell, director of the St. Mary's County library system, told a local newspaper, The Enterprise, "We've had no instances of rape in the library bathrooms or anywhere else in the library. We try to make it as safe of a place as we possibly can. It's a very safe place for people to be."
Librarians also fought for the rights of LGBTQ patrons, as resources disappeared from US government websites and "bathroom bills" were being considered.
The American Library Association (ALA) through its Office for Diversity, Literacy, and Outreach Services (ODLOS) developed a resource guide, #LibrariesRespond: Protections for Our Nation's Transgender Students resource guide. The guide contains links to bathroom bill and restroom resources, information about transgender law, a guide for queer indigenous people and people of color.
And in June, the ALA's Gay, Lesbian, Bisexual and Transgender Round Table (GLBTRT) Award for Political Activism was given to the Association for Library Service to Children (ALSC), a division of ALA for cancelling its 2016 National Institute, which had been scheduled to be held in North Carolina, due to the repealing of all GLBT-inclusive nondiscrimination ordinances throughout North Carolina.
In 2017, librarians were faced with a variety of challenges related to social issues. One of these issues was homelessness.
Among the libraries responding to the challenge was the Denver Public Library. The library is a place of refuge for the homeless during cold winter months. The library provides its homeless patrons with referrals to such services as housing, substance abuse and mental health treatment.
In January, the library added three part-time "peer navigators" to help with referrals, augmenting a staff that already boasted two licensed clinical social workers.
Librarians also helped address the opioid crisis. In June, CNN reported that libraries have been placed in the role of first responders, with librarians in cities like Philadelphia, Denver and San Francisco learning how to employ the drug naxolone, better known as Narcan, to assist in reversing overdoses.
In November, WGNO TV in New Orleans reported that the New Orleans Health Department was teaming up with local libraries in an effort to combat an opioid crisis in a city that has seen drug deaths surpass homicides. More than 50 volunteers in all 14 branches of the New Orleans Public Library learned how to recognize an overdose and then counter it with Naxolone.
Libraries responded as well to the wave of natural disasters that hit the United States in 2017.
In the wake of Hurricane Irma, the Florida Library Association worked with the State Library of Florida to coordinate a response to damage caused to libraries across the state. And in the aftermath of Hurricane Harvey, the Texas Library Association and the Texas State Library and Archives Commission also coordinated responses to libraries across the state.
In addition, the ALA established the ALA Disaster Relief Fund to support the Caribbean islands, Mexico, and Puerto Rico. The association also offered a list of resources online for dealing with natural disasters.
Not only were libraries on the front lines addressing social concerns, but they were also on the cutting edge of exciting technological trends that will help our country's youth gain the skills to help them survive in the 21st Century.
In October, the ALA announced more than $500,000 in grants for 28 libraries in 21 states plus the District of Columbia to design and implement coding programs for young people. The grants are part of ALA's ongoing Libraries Ready to Code initiative sponsored by Google to promote computer science (CS) and computational thinking among youth.
"The Libraries Ready to Code grants are a landmark investment in America's young people and in our future," said ALA President Jim Neal. "As centers of innovation in every corner of the country, libraries are the place for youth – especially those underrepresented in tech jobs – to get the CS skills they need to succeed in the information age.
These new resources will help cultivate problem-solving skills, in addition to coding, that are at the heart of libraries' mission to foster critical thinking."
Libraries have been responding, even as they have been transforming their communities through their commitment to education and lifelong learning, equity, diversity and inclusion, and intellectual freedom.
That trend promises to continue into 2018 and beyond.