by David Erickson, courtesy of The Missoulian
Golden shovels pierced the first few chunks of dirt Wednesday on a plot of land in downtown Missoula (MT) that will be home to a new, $36.7-million Missoula Public Library and museum complex. The four-story, 105,000-square-foot facility is expected to be open by 2020.
Missoula's library is the busiest in the state, with over 1,000 people visiting each day. A nearly decade-long effort to plan, fund and build a new one culminated in the groundbreaking ceremony on Main Street that drew a large crowd in the hot afternoon.
Rita Henkel, a member of the library board of trustees, kicked off the ceremony with a speech. "Eight years ago we commissioned an assessment of our current library," she said. "The results proved our library was too small and our antiquated amenities would not be enough to keep up with our rapidly growing community."
She said it's been a laborious and challenging eight years. "In fact, I had brown hair when this started,'' she joked. "But today is the start of a new chapter, one filled with learning resources, information access and public engagement for generations to come. "It is about more than bricks and mortar, books and shelves. This is about a gathering space for ideas that can and will inspire positive social change for Missoula and beyond."
Henkel said none of it would be possible without the magnanimous support and encouragement from the community. "All of them share a passion and commitment to creating a community hub that will bond our community together with lifelong access to knowledge and skills," Henkel continued. "In 2020, when the doors open to the new Missoula Public Library, every member of our community — rich, poor, old, young —everyone can fully engage their curiosity, imagination and learning objectives. Intellectual freedom will be given to all who gather to explore our expanded resources for reading, science, technology, media, culture and family support."
The library is being funded by a $30 million, 20-year general obligation bond approved by Missoula County voters, as well as a $5.85 million capital campaign and $850,000 from various other sources.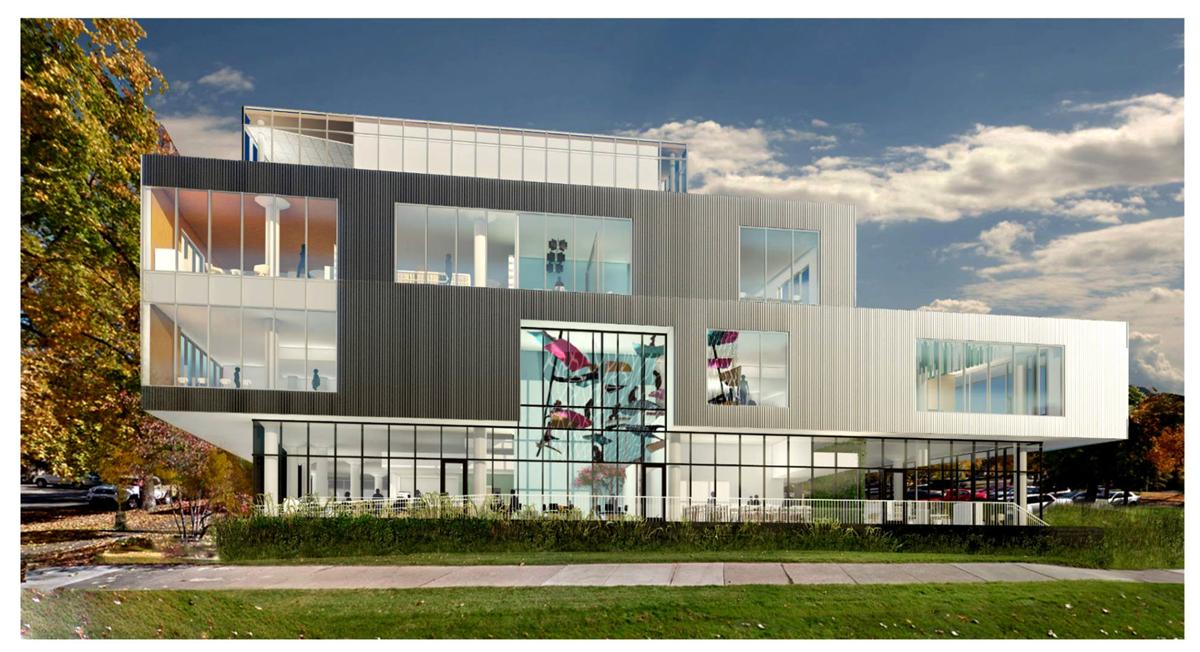 Karl Olson, the director of the Foundation for Missoula Public Library, said that construction costs for commercial projects have increased sharply across the U.S. since the new library was given the green light in 2016. However, he said the impact on the library building budget is small.
The foundation is committed to raising an additional $700,000 in private funds to ensure the vision for the library that was presented to voters becomes a reality. The team of engineers and contractors on the project have finally determined a Guaranteed Maximum Price, so the price of the library can't go up any further.
Frank Scariano, the chair of the foundation and the head of the capital campaign, said he believes there are supporters who have yet to be asked to contribute but who will pitch in. "We will be having another community-minded campaign down the road," he said. "There is no doubt our community is invested in a new library. Missoula is not immune to cost increases. Fortunately the impact on our project is really, really small and we have no doubt that we'll be able to meet that additional need."
He said the private funds that have been raised so far have come from 300 individual donors, including several businesses and the Missoula Redevelopment Agency.
Linda McCarthy, the executive director of the Downtown Missoula Partnership, said she wanted to recognize that a capital campaign of that size was no easy task but it will ultimately benefit the entire county. "This project is very important to our business community," she said. "It's a place where we gather to learn, engage, create and explore. It serves as a community center for folks of all ages and socioeconomic backgrounds. It serves as a showcase of our community backgrounds and our community principals."
McCarthy said she believes that education and exploration are vital to the culture and economy in Missoula. "The library serves as an economic engine and contributes to our community's vibrancy and our city center's vibrancy," she said. "It helps showcase our history through preservation of archives and the stories of our community and what makes us Missoula."
The new facility will also house Missoula Community Access Television (now called Missoula Community Media Resource), the SpectrUM Discovery Area (a public science museum for kids geared towards technology, engineering and math) and the Family's First Children's Museum, along with a café. The fourth floor will have a large public meeting room with expansive views to the south, along with an outdoor patio.
The new building will be built directly to the east of the current building at 301 E. Main St., and the current library will remain open during construction. There have not been any announcements about what local businessman Terry Payne will do with the old building once the new one opens. Mayor John Engen noted there is significant construction going on in downtown Missoula, especially along Front Street, and the library will be an asset for generations to come.
Rita Henkel of the library board quoted one of the world's greatest minds as she closed out her speech. "Albert Einstein once said, 'The one thing you absolutely have to know is the location of the library'," she told the crowd. "Well Missoula, here we are."